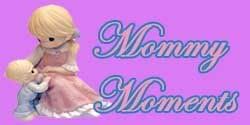 Mommy Moments is a weekly meme and you can join us by sharing any "mommy moment" that happened recently in your life. Create a post and add this badge to your post ( or choosing any other design from here). Then just enter your name and the URL address of your post below on the Mr. Linky, so we can all visit one another and see what you have shared with us this week!
Today marked another special day in my daughter's life as she performed for the 2nd time in CCP. It was their ballet recital day! We watched her dance twice and we saw a remarkable improvement in her movements compared to her last ballet recital which was held last year. My daughter Kyla has been regularly attending ballet classes for 2 years now under Acts Manila Santa Rosa. I am truly proud to see her growing in the field of ballet, moreso, seeing her grow as she becomes more diligent and passionate about doing her best for the Lord.
When we watched her dance today, we can no longer see the super shy girl who always cried on stage instead we see a confident little lady dancing gracefully and purposefully for the Lord. My prayer is that may she continue to use the talent that God has given her for His glory in the days to come.