Learning foreign languages is an exciting learning experience. We have been learning Chinese informally as a family for a few months already when I was given a full semester course access to Middlebury Interactive Languages for 6 months as part of the Schoolhouse Review Crew. Middlebury Interactive Languages offers interactive and immersive online language courses in Chinese, German, French and Spanish. We were given access to the Chinese Courses Elementary Level 1 for Grades 3 to 5.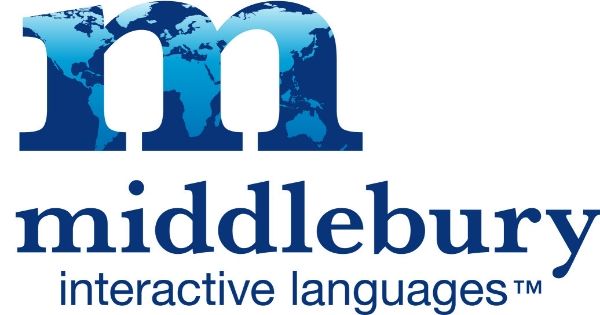 Designed by Ph. D. level academics and linguistic experts, Middlebury Interactive Languages uses immersive approach in developing one's fluency in foreign languages. The different rigorous online training courses have passed the standards set by the American Council on the Teaching of Foreign Languages. This ensures that authentic materials are being used which translates to actual reading, writing, listening and speaking activities in every session. There is also a No-English Spoken Here policy making the student encounter real life scenarios when training elsewhere in the world.
The Chinese Courses are developed for the K-12 curriculum. This is a self-paced program and it is ideal for 3rd Grade to 5th Grade students, though one can start even without any prior knowledge of the language.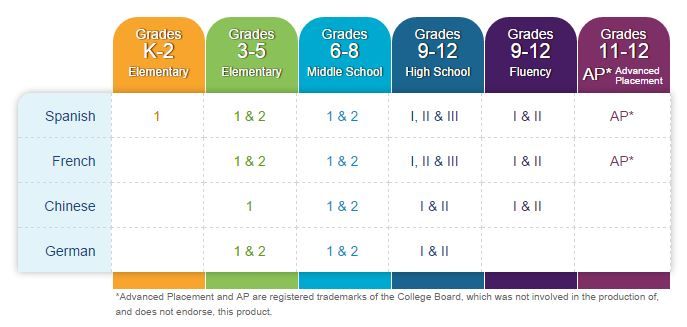 Since this is an online course, all you need is to have a stable internet connection and a web browser like Safari, Firefox, Chrome or Internet Explorer and your child can start studying by herself. My daughter is currently in 5th grade and I had her login and do lessons 2-3 times a week.
Upon log in, you have the option of viewing the Calendar where there is a suggested lesson each day or going to the Table of Contents. Both can lead you to the actual lesson for the day. For the Elementary Chinese Level 1 course, the student will learn about numbers, greetings, family members, home, colors and adjectives, school and food. Every unit focuses on one of these topics. Each topic covers 6 lessons. Depending on the level of fluency of your child, you can do 1-2 lessons per day in my opinion.
Each unit begins with a video about a Chinese legend or myth surrounding the lesson being taught. Then there are a few games and lab exercises which allows you to explore, practice, remember and speak the language.  For the speaking lab, the student will be asked to speak and record herself saying the new words she has learned. The microphone should be enabled for this exercise.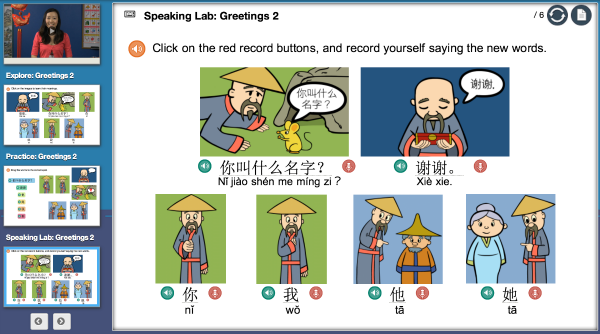 The learning isn't limited to the speaking and listening area. There are also some video lessons on Chinese culture like social customs, home customs and being a good host. Chinese character formation and stroke order is also taught throughout the lessons.
For every practice and test activity, there is an automated checking. Then the program automatically records the results and you can view the results when you click on Gradebook at the menu upon log-in.
The lessons are being sold per semester for a single user at the price of $119 without a teacher. There are 45 lessons per semester for the Chinese Courses.
What I Thought of the Product
I understand Chinese because I came from a Chinese family and studied in a Chinese school growing up, it is a different story with my kids. They don't understand Chinese since we don't speak Chinese at home. Hearing the spoken Chinese language with its complicated sounds and its rhythms, I salute the accuracy and the quality of the language program.
I also like the systematic approach throughout. With the step by step procedure every lesson,  I am confident that with the consistent usage of the program, my daughter will be able to speak basic Chinese words and understand them as well after one semester. If needed, she can easily access the old lessons and watch them over and over again.
The engaging learning environment provides a holistic approach and helps the student not just to read, write, speak and listen to the language but also understand and appreciate the culture surrounding the language.
This is a wonderful Chinese language online program which needs minimal parental supervision.
For more information on Middlebury Interactive Languages, check out their social media accounts at:
Facebook: https://www.facebook.com/pages/Middlebury-Interactive-Languages/141015515949753
Twitter: http://twitter.com/MiddInteractive
Pinterest: http://www.pinterest.com/middinteractive/
Google +: https://plus.google.com/b/110371351490550861545/110371351490550861545/posts
To read more reviews about this certain product or reviews on other languages, check out the Schoolhouse Review Crew posts!