My 5th grade daughter loves to read and when I was given a chance by Star Toaster through the Homeschool Review Crew to review their online curriculum, Orphs of the Woodlands I was really excited to see what this program was all about and how my daughter would like it! I was given a  one year access to the program in exchange for my review.
Orphs of the Woodlands is an online interactive reading adventure for 4th-7th grade students. This product was developed by the Star Toaster team who believes that children primarily learns inside the home and that character eventually defines success. With the goal of helping parents to teach their children positive values, this interactive program also sets the tone that learning is NOT BORING. With a very interesting storyline, the student can become involved in the story through the completion of games and while doing so, learning vocabulary words, grammar, math, science, thinking skills, life skills and the arts. There are over 300 lessons in the whole program!
Since this is an online program, I only needed to make sure that my browser Google Chrome was working and I had a stable internet connection. Upon logging on as the parent, I added my daughter's account and set a password for her. It is important to note that you must use a different password for your children as you will be using the same email account to log in the system.
My daughter logged in and immediately started watching the tutorials and she was on her way! She started reading the story, The Treasure of the HighTower and was hooked! She was asked to name the main character of the story, who is a squirrel and she named him Squeaky. She read about 15-20 minutes before she finished the first chapter. As she was reading, whenever she encountered a word in red, she can point the cursor to that word and the meaning would be flashed. She learned several new words in each chapter.    
The story is about the squirrel who is newly recruited to become a spy and fight against the Night Creatures. As he learns how to be a spy, he also learns about the orphs or orphans of the woodlands who needs his leadership and care to survive.
After each chapter, my daughter needed to complete jobs or games to collect stars. There is a specific number of stars that each orph needed to survive. So the more jobs completed, the more stars collected. The number of stars needed depends on the number of orphs under her care.
The jobs are divided into several categories. There is Math, Science, Vocabulary, Thinking Skills, Character, Life Skills, and the Arts. As she reads more chapters, there are more jobs for her to click on and finish. As she completes more jobs, she earns more goldstars per job each time she finishes the chapter.
The jobs are quite interesting as she gets to learn different things for example, she clicks on Sound Specialist under Science and she learns about sound waves. A video teaching will be shown as her training then she answers some questions based on what she just learned. Sometimes, instead of videos, she will be presented with texts about the subject matter.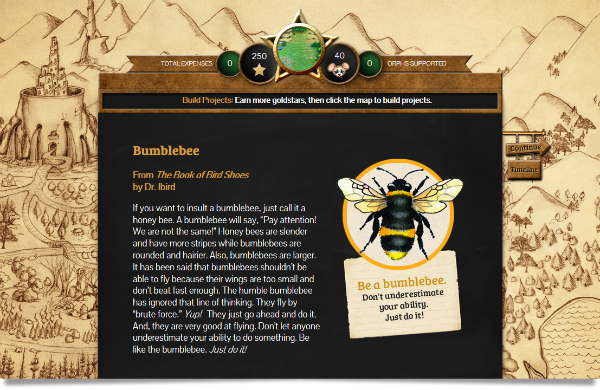 She can also choose to click on the map and buy land, build projects and acquire the needs of the orphs. She needs more stars to do each project so this will lead her to complete more jobs.
Upon clicking the timeline, she can go back to the previous chapters she has read and review them or proceed with the story. Though she will not be able to skip to chapters she has not finished yet.
What We Thought of the Product
My daughter enjoyed the product. She said that it felt like she was playing a game more than doing an online reading curriculum. Her favorite is that she got to learn many new words and fresh insights on science facts! The only thing that she didn't like was that she had to finish so many jobs for the numerous oprhs that she had to care for and couldn't get to the next chapter easily! Sometimes, she would tire of the jobs and log out already.
As the mom, I loved this product!
First, it encourages independent learning. My daughter needed little assistance from me during the entire time she was using Orphs of the Woodlands. It was easy to use and interesting enough to hold my daughter's interest to complete the jobs/games .
Secondly, I loved the updates that I was getting through email. I was sent an email everytime she finishes something. I also like the fact that I can login and see what she has been accomplishing and learning.
Thirdly, this is a well-rounded product. I don't need a separate curriculum for each subject. The program touches on the basics of what your child needs to know in every area of life.
Fourthly, the learnings from the story is not just academic but it's all about life skill and is character based. I like it that my daughter learns to be patient, diligent and responsible as she completes the jobs in the story.
Lastly, it is not a costly online reading curriculum. In fact, it is perfect for a summer reading program. The book can usually be finished in 2 months and just costs  $19.99 for the 60 day subscription for up to 3 students. The 30 day extension just costs $6.99.
If you have reluctant readers at home, I encourage you to try this out! There is an on-going FREE TRIAL to the first chapter of The Treasure of HighTower book of Orphs of the Woodlands!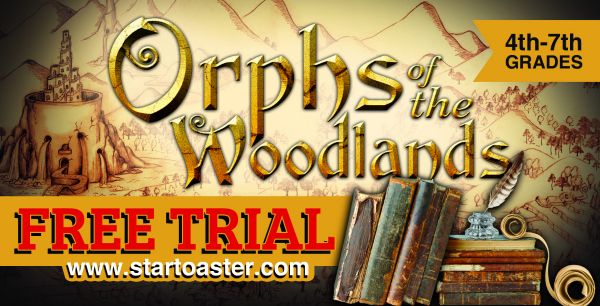 For more information on this great product, follow Star Toaster Facebook page, Star Toaster Pinterest page and Star Toaster Twitter page.
Check out what other Schoolhouse Review Crew says about Star Toaster…