Brinkman Adventures brings us exciting and true to life audio missionary stories and they have just released The Brinkman Adventures: Season 3. As part of this year's Schoolhouse Review Crew, our family was given the digital copy and an opportunity to review it!

The Brinkman Adventures is not new to us. We've reviewed the 2nd season last year and we immensely enjoyed it. The 3rd season brings episodes 25 to 36. Amazing stories of missionaries and God's faithfulness in each of their lives in different circumstances. The stories actually come from real life but some names may have been changed and some details are dramatized too. But there is one story where the real name of the person is used (Steve Saint) and he even played his own character!
If you are not familiar with The Brinkmans, they are a modern-day missionary family. They have a blog where they write about the different missionaries they meet around the world. They are still the lead characters of the season but there are several stories which doesn't include them or doesn't center on them. The different characters face life threatening adventures and challenges which allow them to discover the very character of God and allow them to know their life's mission. The stories  happen at different parts of the world from Ecuador to Kashmir and Africa to Alaska.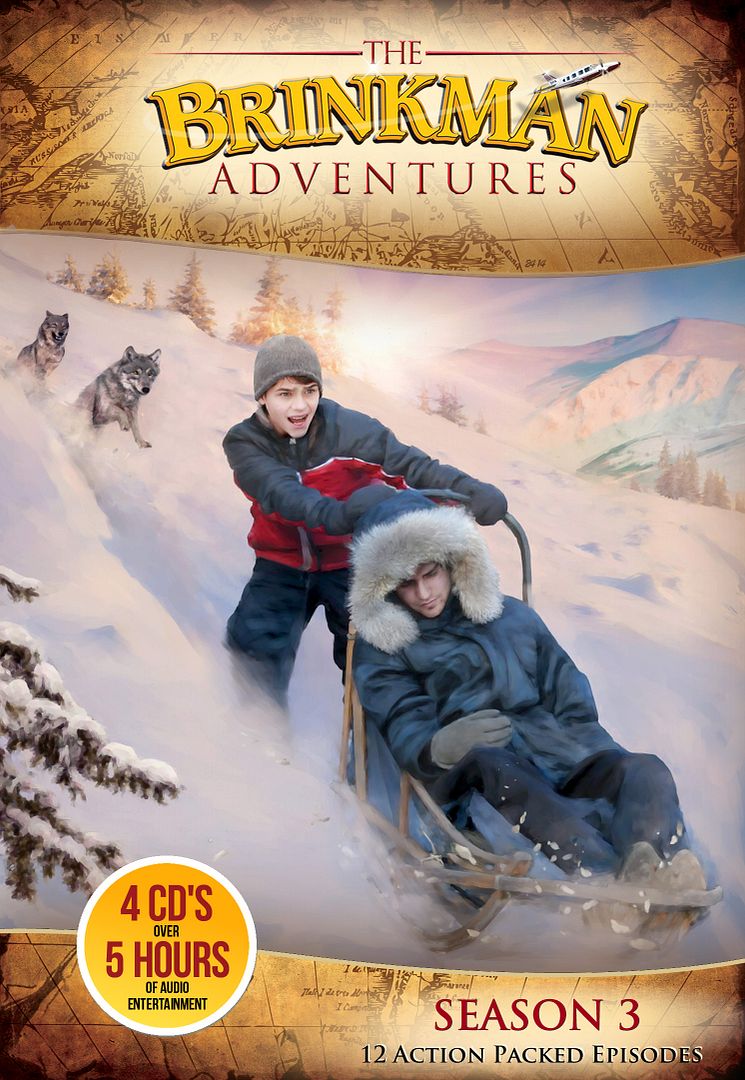 Season 3 includes 12 exciting episodes. Every episode is about 25 minutes long so you will receive around 5 hours of audio drama. As we received digital files, we used the software VLC Media Player or Windows Media Player on my laptop to listen to all 12 episodes.
The episodes included in this season are namely:
Ep. 01 – God's Mule
Ep. 02 – Mountain Mover
Ep. 03 – Silent Ambassador
Ep. 04 – Translating Trouble
Ep. 05 – Man-Up
Ep. 06 – Acorns & Oaks
Ep. 07 – A Saint's Story Pt 1
Ep. 08 – A Saint Story pt 2
Ep. 09 – Untouched
Ep. 10 – Busy Bees and a Bullhorn
Ep. 11 – Missionary Tourist Pt 1
Ep. 12 – Missionary Tourist Pt 2
We listened to one episode each day after lunch. This was our usual read-aloud time so listening to The Brinkman Adventure during this time was perfect for our family. My 11 year old daughter and 8 year old son sat close by and listened to the stories with anticipation. As they have listened to the previous season last year, they still remember some of the characters from the Brinkman family. They looked forward to hearing the familiar voices! There were also some recurring characters from the previous season like Mr. Benti and
After every episode, we discussed briefly the main lessons  we learned from the stories. Some of the lessons we learned from the different episodes were:
God is all-powerful, not limited to what our mind can conceive!
We need to obey the Lord's instruction and step out in faith then God would show up when we least expect it!
We can never do everything on our own. We need to help one another so we can achieve what God wants us to do.
Even through painful situations in life, God can still use us if we are sensitive to His leading.
We also used the stories behind the stories guide from the webpage to know which part of the story were true and which were fictional.
My son's favorite episode is "Man Up" because it was action-packed and exciting and Ian Brinkman was in the story! I guess he identifies with him. While my daughter's favorite episode is "Acorns & Oaks" because it was truly inspiring to hear the story of the Ice Cream money Camp!  My favorite episode is "Busy Bees and A Bullhorn" because I sometimes am like Susan Brinkman, trying to do it all when I shouldn't really be!
If you haven't listened to The Brinkman Adventures, I recommend that you listen to the stories as a family. It gives every family some hope and encouragement that God can use each person to touch another life. It can even give your family a head start on becoming a family rooted in doing what God has tasked you to be!
You can get the CD version for a suggested donation fee of $27.99 and the MP3 downloadable version for a suggested donation fee of $17.99.
For more on The Brinkman Adventures, follow them on their Facebook page at The Brinkman Adventures Facebook.