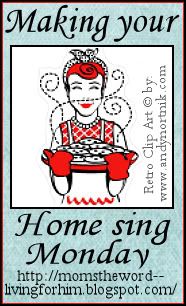 Happy new year! It's already January 4… how fast time passes by! In a few days, we would be surprised that its already the middle of the month and then, a month has passed by. For stay at home moms like me, its so easy for time to slip by… while doing daily chores and activities… sometimes, we can easily lose control of how we spend our time. Instead, our daily activities control us.
This year, while the year is just starting, I think it is best that we set goals. I haven't written down mine yet, but it is my goal to write down my goal, (that sounded funny!) if not for the month.. my goal for the week. I have mentioned that I want to live each day with a purpose so what better way to do it than setting a goal at least one goal a month and be able to reach that goal.
I hope to set aside one night this week to do just this… but definitely, goal setting is a must for me this year.
For more Making Your Home Sing, check out Momstheword!