As part of Schoolhouse Review Crew, our family was given the chance to review and enjoy Maestro Classics products. We were given digital copies of The Sorcerer's Apprentice and Mike Mulligan and His Steam Shovel.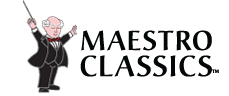 Maestro Classics is  a classical music CDs for kids ages 5-12 years old. The Stories in Music series uses symphony orchestra  for classical music and narrations telling you the story. It is like an audio book with a classical twist! It gives children of all ages an opportunity to enjoy and appreciate classical music and be exposed to a different kind music, one which they have not been used to hearing these days.
There are three major goals why Bonnie Ward Simon, the producer, and Stephen Simon,the composer, created this series. They wanted to expand listening horizons, develop listening skills while accumulating musical memories and encourage families to listen to music together.
Maestro Classics introduces classical music as the London Philharmonic Orchestra performs in each of their CDs. Each CD contains several tracks which includes the story, songs, sing-alongs, about the music, about the authors or composer. An activity book is also included in each package. The activity book is a small colorful booklet containing historical background of the music, lyrics to the song, song sheets, information about the composer and the narrators and some activities related to the story using crossword puzzles, connect the dots or word search.
We used Windows Media Player on our computer and first listened to The Sorcerer's Apprentice. We weren't familiar with this story at all until we listened to the 3rd track which is entitled The March of the Brooms. Then we realized that this is where Disney's Fantasia came from!   The story was about a lazy apprentice who cast a spell on the broom not knowing how to stop the broom from multiplying. The music was composed by Paul Dukas, a French composer and was based on a poem written by  Johann Wolfgang Van Goethe, a German. The original story was wriiten by Lucian, a Greek. The 24 pages activity booklet included song sheets, orchestra details, games, history on Paul Dukas, introduction on mallets, information on drum and bugle corps and tidbits on the composer, narrator and the executive producer. You can also listen and play along using kitchen percucssion! The entire CD is 41:25 minutes long.
We listened to the entire CD in one sitting.  The narrator was lively and the music was quite interesting for my 10 year old and 7 year old. Since it isn' t everyday that we listen to classical music, we discussed a bit about what composes an orchestra. We used the activity booklet for our discussion. The kids found it interesting that it takes so many instruments to play such music, meaning so many people rehearsing and performing together to create a wonderful piece of music. They ultimately learned that teamwork is necessary to create wonderful music together. They also learned that one should not be disobedient and lazy otherwise bad things might happen!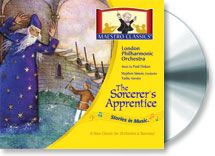 On another day, we listened to Mike Mulligan and His Steam Shovel. We were more familiar with this one as we have this book at home. We have read it a couple of times already and this is one of my son's favorite books. As we listened to ths, my 7 year old son grabbed his book and read along with the narrator.
Mike Mulligan and His Steam Shovel was written originally by Virginia Lee Burton. It is about Mike Mulligan and his steam shovel Mary Anne and how they proved that they were still useful to the community until the end. The music was conducted and composed by Stephen Simon and narrated by Yadu and Paul Brennan played the Irish bagpipes. The music used was melodic and was very easy to recall. My son loved the Mike Mulligan song! He even sings along with it while reading the animated lyric sheet which is included in the 24 pages activity booklet. Several games, song sheet and information on the tenor, the little boy and the piper are also included in the booklet. This entire CD was 51:15 minutes long.
The story centers on change and how we should handle change. My kids learned that they need to adapt to change. Mike Mulligan was very loyal to Mary Anne amidst all changes. They also persevered to prove that they can still serve their community together. It was a story of friendship and companionship.
Between the 2 CDs, we definitely liked Mike Mulligan and His Steam Shovel more because we were more familiar with the story and the song was more catchy! My son and I still sing the song out of memory together! We've also listened to it more than once already.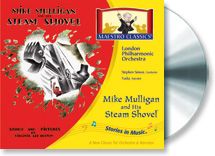 The physical CD  products cost $16.98 each  while the MP3 downloadable version costs $ 9.98.
This has been a wonderful and subtle way of exposing my chidren to classical music. I didn't need to make them sit and listen — they were actually enjoying classical music already!
Check out Maestro Classics Facebook page or their Twitter @MaestroClassics or follow them on Maestro Classics Pinterest
For other Maestro Classics reviews, do visit other Schoolhouse Review Crews!