As a homeschool mom for 5 years, I have experienced some high and lows in our homeschooling journey but I admittedly am still no expert in homeschooling so I was pretty excited to read
The Busy Homeschool Mom's Guide to Daylight from Real Life Press. I was given a PDF copy to review this eBook by Heidi St John.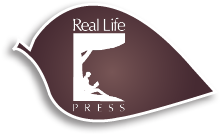 Real Life Press believes that Truth can only be found in God's Word and publishes materials on marriage, parenting, homeschooling and Bible study. The people behind Real Life Press are Jay St. John, who is the publisher and and leads Firmly Planted Ministries and Heidi St. John, who writes, speaks and blogs at
The Busy Mom
.
Throughout the past years, I have been following The Busy Mom's blog. It has been a source of encouragement to me. I like how candid Heidi can be, using humor and her real life experiences as application points.  I was pretty excited to read The Busy Homeschool Mom's Guide to Daylight, especially as we were heading to our summer break when I got my copy of the eBook. I knew that this book would provide fresh insights, encouragement and help me re-evaluate as we close another school year.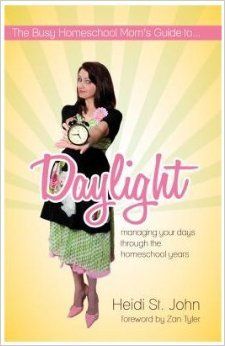 I used my iPhone's iBooks app to open the PDF file and as soon as I started reading the  introduction, I knew that this was the perfect book I need to read to help me make the most of our break. The entire book focuses on 8 practical ways to use the daytime hours wisely including home organization, meal preparation, homeschooling and other important things that moms do at home.
In the beginning of the book, Heidi reminds us that as homeschool moms, we must make our marriage the top priority relationship at home, though she discusses more about this on her other book The Busy Homeschool Mom's Guide to Romance. Then she mentioned that we are to nourish our relationship with our children and to always see the big picture because time with the children is limited and is truly precious.
Detailed chapters on how to do this follows. It begins with Intentional Daylight. She reminds us that a crucial component to homeschooling is knowing why we are homeschooling. Afterwards, it is important to make P.O.A. or Plan of Action which you need to hold loosely depending on the season of your life. Nurturing ourself should be included in our plans to ensure that we don't overwork ourselves.
Organized Daylight is probably one of my favorite chapters. It focuses on controlling clutter and reclaiming space at home. Since we live in a minimal spaced house, I need to make sure our house is free of clutter. Heidi reminds us the importance of decluttering and practical steps to organizing our home.
Scheduled Daylight talks about time management. Self-control and prioritization of what really matters is of utmost importance to achieve proper management of time. There are different daily schedules which one can use as a template for our own home.
Hungry Daylight focuses on meal preparation and practical tips on menu planning, picky eaters and how to make meal times special.
Discouraged Daylight deals with discouragement that comes to all homeschooling moms. I identified with this chapter and found it very enlightening. I was reminded that it is the grace of God which enables me to do all that he has purposed for me to accomplish. I don't rely on my strength and wisdom but depend on His power and grace to be an effective homeschool mom for my kids.
Consolidated Daylight talks about multi-level homeschooling and how to breathe LIFE unto your homeschool days.
Wasted Daylight helps you identify the daylight wasters and how to deal with them. Social media can be a great source of information but it can also be a time stealer. It is important not to waste your time and energy daily on unimportant stuff.
The last chapter, focuses on Surrendered Daylight. It is so easy to be pressured by our society so this is something that should be dealt with immediately. Refocusing our aim and surrendering our homeschooling to God allows us to find peace and calm in the Holy Spirit rather than on what "should be" happening to our children.

All through out the book, I learned that there is NO PERFECT MOM or SUPER MOM. God is the reason why I chose to homeschool the kids, and I must continually draw strength from Him and seek Him first always. I choose to remember what Heidi said "If He has put homeschooling before you, trust Him! He has already equipped you for the job!"
Go get your own copy and be inspired to homeschool. The eBook costs $12.95.
For more information, go to The Busy Homeschool Mom's FB page : https://www.facebook.com/busyhomeschoolmom?fref=ts or Twitter page : https://twitter.com/heidistjohn or Pinterest page : https://www.pinterest.com/heidistjohn/
Read other Real Life Press product reviews by the Schoolhouse Review Crew by clicking on the image!