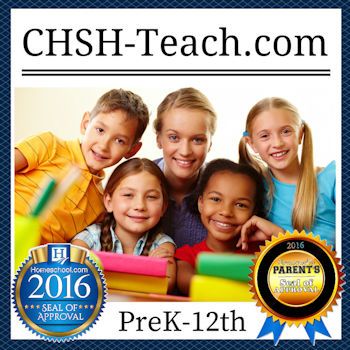 Sometimes, I need to search the web for supplemental materials for my 7th grader and my 4th grader and that times time. So when I saw that 
CHSH-Teach.com
 offers thousands of educational materials, I was excited to see what an annual subscription to  
CHSH Download Club
 will offer to our homeschooling family.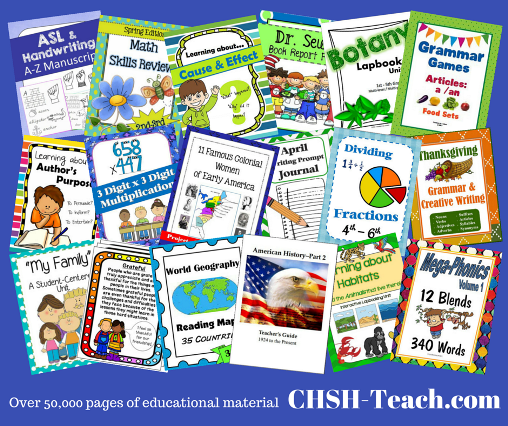 CHSH – Teach.com is the Christian Homeschool Hub. It was created by a homeschool mom who first began her career as a public school teacher, Lynda Ackert, in 2010. She loves creating educational materials and hence decided to put up a hub where everyone can use these materials. The CHSH-Teach.com has over 50,000 pages of materials available for teachers and homeschoolers alike! This site is continuously being updated with new contents so the list of materials continues to grow!
What is included in the CHSH Download Club subscription?
Access to thousands of learning materials included worksheets, lapbook materials, instructions, flashcards, notebook pages, curriculum (for languages), checklists, writing prompts and many more.
There are also organizational materials for homeschool moms  like planning forms, how-to-homeschool resources, graphic organizers, awards and certificates and calendars.
You can search the library by using the CATEGORY, TOPIC or KEYWORD search fields. Another way is by browsing through the list by subject. The subjects available are Bible Related Resources, Languages, Arts Music and Crafts, Language Arts, Math, Science, Social Studies, Electives, Health.
You can also browse through by grade level which includes Kindergarden, 1st-3rd grades, 4th-8th grades, 9th-12th grades.
You can also look at materials available per month or according to events happening per month.
How did I use this product?
Since this product is hosted in an internet server, I just needed to register online and I was given the annual subscription access. I used my Mac machine and used Safari browser to access the website. I just needed to have a stable internet connection.
I wasn't looking for anything specific so I browsed through the entire hub by subject. I decided to share with you the resources which interested us.  Here are the top 3 most interesting Bible resources I've seen:
People of the Bible Noteboking Pages
Proverbs Copywork
Notebooking Through Old Testament
For the languages, I checked out the Spanish language curriculum. It consists of Teacher's Guide, Student Edition, posters/flashcards, games/puzzles and some Spanish unit books.  The lessons is about conversational Spanish and seems easy enough to follow.
For Arts Music and Crafts, my daughter is interested in Knitting so I downloaded the file and she tried to follow the instructions.
Under Electives, I also checked out the Character Studies since we needed one for our new school year. It was really nice since it was simple enough to follow yet deep enough for our discussions. There are 20 character traits in each volume and there are 2 volumes. The suggested use is 1 character per week.
Here are the list of characters included in Volume 1
The lesson starts with a definition and then a series of discussion about the character trait of the week. Then if you have the suggested book, your children can read it and answer the literature connection questions.
How much is this product?
You can get annual subscription fee of only $25 or for lifetime only for $99.99.
What do I think about the product?
For the $25 annual subscription fee, I think you are getting your money's worth. The CHSH Download Club offers numerous worksheets and materials that you are can use for your entire homeschool year for all your children.  It would save you lots of time instead of browsing the net over and over for the resources you would need. This is a one-stop shop for homeschoolers everywhere.
How to contact CHSH – Teach.com ?
Visit their website or connect with them through their social media pages.
Facebook Group: https://www.facebook.com/groups/TheChristianHomeSchoolHub/
Facebook Page: https://www.facebook.com/ChristianHomeSchoolHubPage/
Twitter: https://twitter.com/TeachWithCHSH
Pinterest: https://www.pinterest.com/lyndaackert/chsh-teachcom-creations-by-lackert/
Google+ Group: https://plus.google.com/b/117967118184286217472/communities/108322787218266183941
Google Business Page: https://plus.google.com/u/0/b/117967118184286217472/117967118184286217472/posts
Linked-In: https://www.linkedin.com/in/lyndaackert
Tumblr: http://christianhomeschoolhub.tumblr.com/
Read what other crew members think about this product by clicking on the image below.