As I have mentioned in my previous posts, my daughter is not a fan of Math. So when UnLock Math offered The Schoolhouse Review crew members an opportunity to review UnLock Pre-Algebra, I was excited to see if this will work with my 11 year old daughter. I was given a full year access of the program for one child in exchange for this review.
UnLock Pre-Algebra is a complete online Math curriculum for middle school students. It is best fit for 7th grade-8th grade students. Everything is done online, so you only need a computer with a browser like Chrome or Firefox and a stable internet connection to get it running. It is not a live class so your student can login anytime and she can go as fast or as slow as wants.
The different topics that UnLock Pre-Algebra covers are as follows:
As the parent, I logged in and created a student login for my daughter. It was a very straight forward process and I was done in a few minutes. My daughter immediately logged in and the dashboard welcomed her.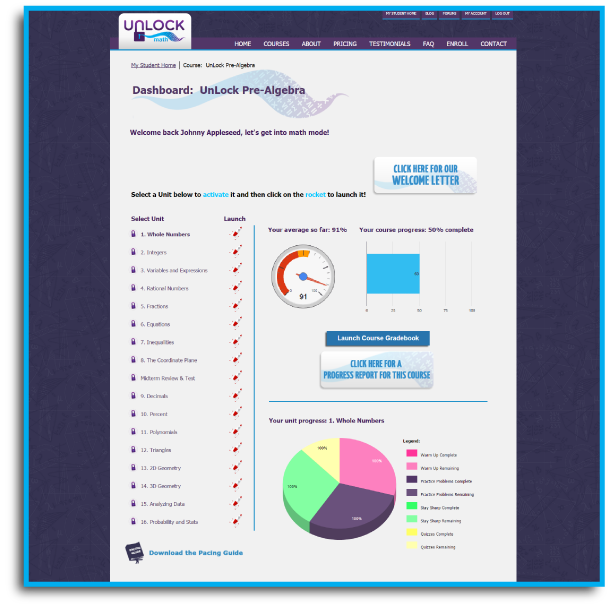 A fast loading site and a neat-looking dashboard were positive signs for us. The site was easy to navigate and understand.  She can easily see how far along she is in the program by looking at the bar and what her average grade was. She can also see details by looking at the pie chart.
My daughter started her lessons by simply clicking on a rocket to launch her first lesson on whole numbers.  An objective is stated at the top of the page allowing her to grasp what she is expected to learn through the lessons. The lesson starts with a warm up section. Students get 10 questions as a review to previous Math lessons. The questions are presented one at a time. Questions come in different forms like multiple choice and typing the correct answer. After completing the warm up, it is time to watch the video for the day.
The first video is an introduction to UnLock Math and to the teacher Alesia Blackwood. Alesia is part of the Ontario College of Teachers certified in Intermediate and Senior Divisions Mathematics and Computer Science. She also has a certification from the Georgia Professional Standards Commission to teach Mathematics in grades 7-12. Alesia was homeschooled herself and is homeschooling her own kids — so she knows what is needed to make a Math curriculum interesting and effective.
What caught my daughter's interest is Alesia's enthusiasm in her teaching videos. She is very engaging and passionate about the lessons she is teaching and she offers bite-sized information every time. Allowing students who are not enthusiastic about Math like my daughter to absorb and enjoy the lesson. The teaching videos is only 5-7 minutes long. Alesia can clearly explain the concepts, then she works on sample problems and relates the concepts to the real world.
After the video, my daughter needs to work on Practice Problems. Again, the problems are presented just one at a time so not to cause anxiousness on the student. Immediately, after completing the practice problems, the answers are auto-corrected and there is an opportunity for the student to see details on each problem and what the correct answers should be.
Stay sharp is the next step that my daughter needed to finish and this is a section which includes previously learned concepts. There are about 10 questions in this section.
Challenge Yourself consist of just 1 question and student gets to try to answer this question one time only. Giving those students who want more challenge an opportunity to use their thinking skills.
As a summary, Reference Notes summarizes the concepts learned for the day. She can easily print the lessons should she choose to do so.
Once she has completed all steps, the lesson is completed and a mark appears on each item she has completed to help her remember what she has finished.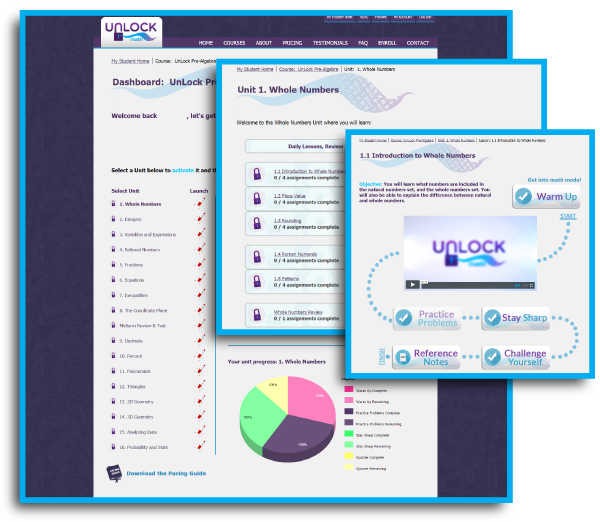 The questions in  Warm-Up, Practice Problems and Stay Sharps can be taken as many times as needed. This is to help the student practice. Then the best grade is the one recorded for grade computation.
Quizzes and Tests happen every lesson while the Midterm exam needs to be taken after Unit 8. A final exam is also given at the end of the term.
Grade computations are done automatically. You can click on Progress Report to see an overview on how the student is doing. It shows you the overall exam grade and the grades of each area.
For a more detailed look, there is a button that says Launch Course Gradebook at the Dashboard and it shows you the computed grades, the time used by the student to finish the problems and the details of everything the students have answered. As for how the grades are computed, the welcome letter states the % of each lesson and how the grades are computed. All reports may be printed for record keeping purposes.
Some features worth mentioning:
> UnLock Math uses interactive and innovative ways to help students remember and understand Math concepts. They encounter different features as they progress along the different units. The curriculum is  good for visual, auditory and word learners.
> UnLock Math partnered with Maplesoft in developing  adaptive questions to ensure that the students are guided through difficult concepts as they go through different questions.
> UnLock Math adapts to students needs for more practice lessons or less practice depending on their ability and understanding of the lessons.
> UnLock Math uses standard mathematical notations so students don't get confused with the system and can focus on learning Math concepts.
> Support service has been outstanding. We have had some issues with the grades but the people behind UnLock Math has been proactive in resolving the issue.
> UnLock Math is coming up with UnLock Algebra this August!
> UnLock Pre-Algebra costs $49 monthly per student and $299 yearly per student. You can use this link with the referral code: http://unlockmath.refr.cc/Z9TBCQR to get $74.75 off from the annual rate (This code is good until August 16, 2015 only) .
UnLock Pre-Algebra has earned our thumbs up. My daughter loves this online Math curriculum. It has helped her remember Math concepts better and allowed her to practice Math at her own pace. She used to loathe her Math practice time and during the weeks that we have been using UnLock PreAlgebra, she has genuinely enjoyed her Math. Each session takes roughly 30 minutes and its bite size approach has built her confidence as she studies Math. And because of that, I would highly recommend this program to struggling Math students or to those who needs to review Math concepts on their own pace at home. The easy to use interface, the effectiveness of the video tutorials by Alesia, the adaptive system and the automated correction and grading are the very reasons why I love this Math curriculum.  It is like having a personalized Math tutor at our own convenience. Definitely, UnLock Math's UnLock Pre-Algebra is a perfect fit for our family.
For more information, please visit UnLock Math through the following links:
http://facebook.com/UnLockMath
http://twitter.com/UnLockMath
http://pinterest.com/unlockmath/
http://plus.google.com/+Unlockmath
http://instagram.com/unlockmath/
Read what others reviewers think about this product by clicking on the banner below: