Science is one of my children's favorite subject but doing the experiments is something I don't naturally like. So when I was given the opportunity to review the Supercharged Science by the SchoolhouseReview Crew, I was hopeful that this would help me and my kids appreciate Science more. We were given 6 months online access to the e-Science Learning Program.

Supercharged Science is an online homeschool science curriculum developed for grades K-12.You can use this alongside any other Science curriculum or use this e-Science Learning Program entirely on its own.
To access the product, you just need a browser and a stable internet connection. Once subscribed, you will use your username and password to access a complete science curriculum. The program consists of 20 topics,  which include science subject matters like  mechanics, motion, matter, energy, sound, astrophysics, chemistry, light, electricity, magnetism, life science, biology and earth science. You can choose to navigate through the different subject matters by topic or by grade levels. The grade level lessons are then arranged by topic. There are over 900 experiments, science activities and projects in the entire curriculum. There are videos, data lab sheets, exercises and reading materials for every lesson. Every lesson has a hands on-experiment which makes the scientific concept become real for the student and they get to watch the  actual experiment on the video first so they know how it works. The materials needed for the experiments are common household items so no need to spend extra to make the activities.
This homeschool curriculum is created and taught by Aurora Lipper. She has a Master's degree in Mechanical Engineering used to be a teacher and she also worked for NASA but has now dedicated her life to inspiring kids and educators to love science through Supercharged Science.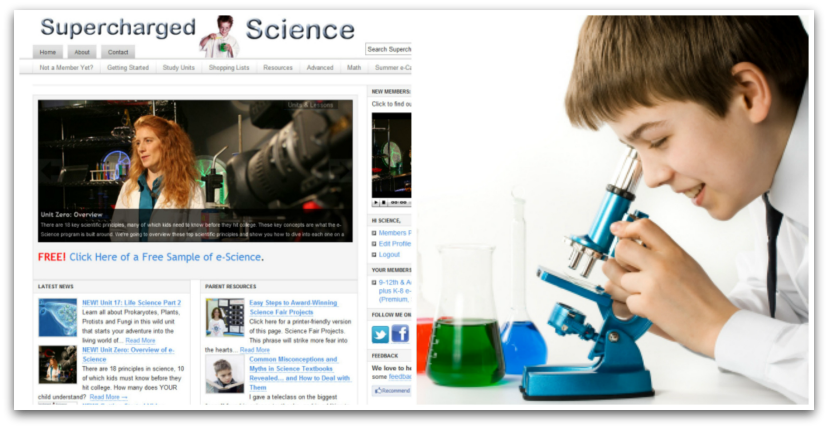 The price of the K-12 Level Plan is $57 per month, while the K-8 Level plan is $37 per month.

We started by watching the Getting Started video to get a feel how we should use the curriculum. We learned that we needed to pick up a science area we wanted to start with and  so we choose to work on Unit 1 about mechanics. The very first lesson was about force. My daughter, aged 10, and and my son, aged 7, went ahead and  watched the first video. They also read the text materials and started to look for activities which are doable and didn't need a lot of materials.
The first activity they chose to do was the flying paper clip. They gathered all the materials necessary for the experiment like the magnet, paper clip, string and tape. They followed the instructions carefully and was able to do the experiment on their own!
The kids were interested to learn more and wanted to do more experiments but we opted to do just one experiment per day. We used the program 3x a week, so that means 3 projects a week!
The next activity we did was the building bridges. The abosultely enjoyed this experiment! They used paper, blocks, clay to build bridges and see which bridge wil last. They learned which structures are best and will not easily topple down.
One night, when the full moon was out, we decided to work on Phases of the Moon. They understood very clearly from that experiment just how the sun's rays reached our world and specifically which area it reached!
One of their most favorite experiment was Go! Go! Go! It was a lesson about kinetic energy and potential energy. We used toy cars, measuring stick and a board book.
We also studied about velocity. We worked on the Look Out Below! experiment. The kids had to gather a few objects and predict which items would fall the fastest. So they had a timer and measured how fast each object fell to ground. Their predictions were not 100% correct. They learned that the heavier objects fell feaster than the lighter ones.
They also wanted to learn about the neat trick from the experiment TaaDaaaa!!! So they tried it and was able to successfully perform this trick!
We used this product as a supplement to our science subject. The kids loved it because it was very practical and made Science become alive! Gone were the days when they just read about a science theory. They loved the hands-on experiment that came with each lesson. I also liked it because the entire program required little intervention from me, since the kids just had to watch and answer the questions and do the experiment. The instructions and the video were very kid-friendly. I also liked the fact that I can jump from one topic to the other. It didn't require me to do all the experiments under each lesson. As long as the kids read and did a few of the experiments, we moved on to the next. If we wanted to do more, then we can easily choose the experiments available.
This is a real life saver for me. I no longer  have to think of experiments to make Science come alive. It is just what I hoped for! To top it all, I also enjoyed learning Science concepts with the kids!
If you want to see if this online homeschool program suits your family, you can try this full access to the  e- Sceince program for just $1!
For more information about Supercharged Science, follow them at their Facebook page https://www.facebook.com/superchargedsci or Twitter at http://www.twitter.com/aurora_lipper or YouTube at https://www.youtube.com/user/auroram42.