My son loves treasure hunts! So when we were offered to review Clued in Kids Treasure Hunts, we didn't hesitate to take up this product. We received the PDF Printables of Multiplication Dragon and Soccer Treasure Hunts.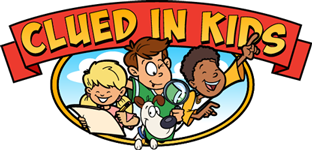 Teaching logic, math, social studies and reading has never been this fun! Clued in Kids treasure and scavenger hunts are ideal for birthday parties, homeschool support group activities and other social functions. It can also be used in your own house, to reinforce lessons and to make learning more fun! It is easy to prepare as it only takes around 8 minutes of your time and it gives your child about 20 minutes or more of hunting time around the house. You need to print the clues, cut them in half and keep it according to the location specified in the instructions.
Every hunt has a series of clues with different activities and then when your child gets the answer, he will be able to identify where the next clue is located. There are around 12 clues per game. At the end of the hunt, be sure to put in some treats or real treasure for your child!
These scavenger hunts can be done by a wide variety of age ranges. Some can be done as young as four, but others can be a joint work between  your  teens and their younger siblings. The Multiplication Dragons contains 5 printables of 2x-6x multiplication table and is best for 7-9 years old since they would need to know their multiplication tables. This costs $19.99.
My son is seven years old and we have just started learning about multiplication, so this was definitely a fun way to make memorizing the multiplication table easier for him.
I chose a morning then printed the clues, cut the clues and  started to hide the clues in different parts of the house like the cabinets, shoes, mailbox, under the desk, microwave, bathroom, beside the window etc. It took me roughly 8 minutes to do this and the treasure hunt began!
It roughly took my son 20 minutes to complete the hunt inside the house. As you can see, he is all smiles after!
Since this is a bundle of 6 games, we had 6 days of treasure hunt. Each had different set of activities including crossword games, choosing the best answer  and other simple games which involve multiplication.
We also received on the Soccer Treasure Hunts. This costs $5.99. This includes just one set of  12 clues revolving around soccer. My son loves soccer so this was a wonderful way for him to learn more about soccer. There were some questions he didn't know the answer to so he just checked the possible answers by  checking each location. But overall he loved it!
I thought these treasure hunts were so much fun, both for my son and me. It was a refreshing change from our usual routine and it brought priceless memories to us. I love it that we can learn together and have fun. It fits our homeschool lifestyle, best of all, it helps us bond together more.
For more information, check the social media accounts of Clued in Kids at the following:
Twitter: @cluedinkids
Facebook: https://www.facebook.com/cluedinkids
Pinterest: http://www.pinterest.com/cluedinkids/
Read what the rest of the Crew members have to say about the different Clued in Kids product.