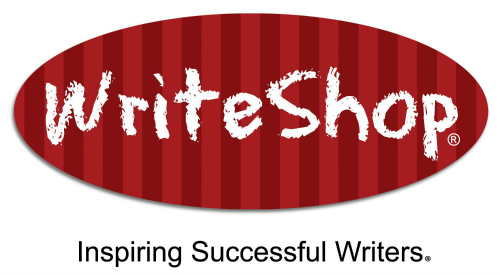 I was looking around for a writing curriculum for my 5th grade daughter and I stumbled upon WriteShop. It seemed like a good choice so when I was given the opportunity to review the product through SchoolHouse Review Crew, it was an answered prayer for us! We reviewed the WriteShop Junior: Book D Set.
WriteShop is an incremental writing curriculum for kindergarden to high school. They offer WriteShop Primary for grades K-3, WriteShop Junior for grades 3-5, WriteShop for grades 6-10, Write Shop II for grades 8-12. They also offer Fold-N-GoGrammar lessons.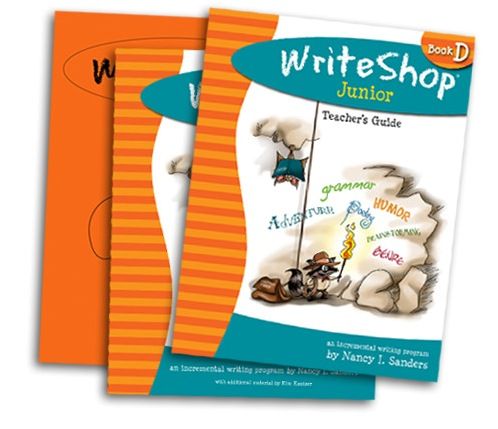 I chose the WriteShop Junior D to review with my 10 year old daughter. WriteShop Junior D is recommended for students in 3rd grade-4th grade but can also be used by struggling students in 5th grade and 6th grade or those who have never taken any formal elementary writing lessons. The lessons are taught in a step by step approach using the stages of  pre-writing, brainstorming, writing and self-editing . Using the correct punctuation marks, brainstorming before writing, structuring a sentence, narrowing a broad topic and self-editing and revising your own work are just some of the skills introduced in this book. The student will also have the opportunity to write the following:
> Letter of Invitation
> Humor 
> Adventure 
> Science Fiction 
> Mystery 
> Poetry/Haiku
> Folktales 
> Historical Fiction
> Personal Narrative
> Expository Writing: Factual Article
We were given digital copies of the following items:
Book D Teacher's Guide digital copy costs $35.50. It contains 278 pages of comprehensive instructions on how to use the writing program. Daily lesson plans, writing samples, guided scripts and list of required supplies for each activity set can be found here. It is also available in a spiral bound physical book which costs $45.95.  This is a required component for the effective use of the writing curriculum.
Activity Pack
 digital copy costs $35.5o. It includes the 66 pages of engaging student worksheets and 72 pages of  Level 1 Fold-N-Go Grammar pack. The activity sheets are presented in an animated, fun and creative manner. Student will enjoy completing all the interactive activities which makes learning fun!  Some of the pre-writing activities need preparation from the teacher. Preparation includes printing and cutting. Level 1 Fold-N-Go Grammar pack is a reference tool to help review grammar rules. You can assemble it by using file folders.
The digital copy enables you to print as many copies as you need for your entire family. If you want to buy the hard copy, it costs $45.95 but do note that it  can only be used by 1 child. This is a required component for the writing curriculum.
Optional Time Saver Pack
 digital copy costs $11.50. It has 24 pages of ready made tools to lessen preparation time of the pre-writing activities from the activity packs. It is also available in hard copy and costs $14.95. Note that this is just an optional component for the writing curriculum.
All files can be simply opened using Adobe Acrobat.
How We Used The Product
We were given 8 weeks to use this product. As soon as I got the files, I immediately opened the Teacher's Guide. As I scanned the document, I was a bit overwhelemed with the wealth of information found in this file. I decided to read the document in sections. I liked it that WriteShop has laid out a 2 week and 3 week cycle schedule of  the lessons. We chose to use the 3 week schedule and printed it out so we have a visual guide. To save on paper, we only printed the Activity Worksheets.
My daughter worked on Fold-N-Go Grammar on Mondays while I prepared the activities for pre-writing.
We worked on the pre-writing activity and this is where we have the most fun! There is a different fun activity in every lesson.
Then we follow the Model and Teach script. For the following days, I asked my daughter to work on the journal writing practice, brainstorming activities and the writing project.
Usually, my daughter types the finished project into the computer. Then she edits and revises the document using the self-editing checklist provided by WriteShop. After the 3 week cycle, we evaluate her work and the skills she learned during the entire cycle.
What We Thought Of the Product
My daughter Kyla thinks that the product is wonderful. It's a  fun and creative curriculum that allowed her to grow as a writer. She mentioned that she liked how the lessons started with games and made the lessons easier to remember. Every start of a new lesson, she looks forward to the unique games and it sets the tone for her writing assignment.  She also appreciates the self-editing checklist since it made editing and revision work easier for her. Her favorite lesson so far is the humor writing project. It was her first time to write a humor piece and it turned out quite good!
As the parent teacher, I liked the different activities that WriteShop provides. Instead of the usual drills, it adds creativity and widens my daughter's choice of words and story lines in the different writing projects. The step by step approach was able to guide my daughter in forming the different skills needed to write more creatively. I especially liked the exercise on narrowing a broad topic, as it helped her to think more specifically on her writing assignments.
After 8 weeks of use, this product has not failed my expectations. If you have a reluctant writer in your home or if you are looking for a fun way to unleash your child's creativity, I suggest you give WriteShop a try!
You can read more reviews from the Schoolhouse Review Crew.