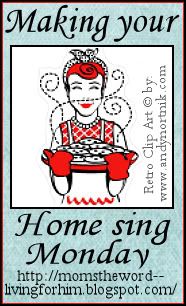 I am joining Nan's weekly meme today. This meme is about how to make your home sing. I believe that being a stay at home mom is more than just being able to watch your kids personally grow up and personally caring for their needs. I chose to be a stay at home mom because I felt that this is what God is calling me to do.
I have been a SAHM for the past 5 years and it has really been fulfilling. Though there are days that I wish, I was also earning but God has been really faithful. Anyway, the past week, God has been challenging me to take my being a SAHM to the next level. I have decided to intentionally teach my kids. Like values, memory verses, a set of daily activities for Toby, instead of just letting him play or watch videos all day while I blog. It is a challenge to me and I would want to do these for the kids and above all, as my service to God. Truly, family is the first ministry that God has given us.
I pray that I will be successful in this new endeavor.