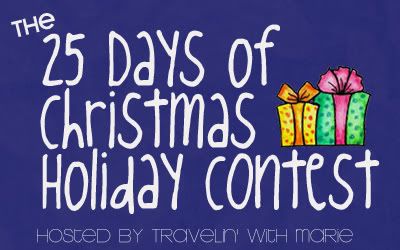 Ever since we have moved here to our own home, every Christmas day, we host a special lunch where my family and my hubby's family are invited. It is sort of a thanksgiving lunch. It is special since its very rare that everyone of the family is complete and pays us a visit here at Sta Rosa Laguna.
As Christmas is a few days away, I am also posting this as my entry to Marie's contest! Here are the special prizes you can win…
Prizes and Sponsors.

1st Prize:
$5 Paypal funds- Crayons n' Pencils
5000 EC credits – Wonderful Things in Life
4000 EC credits – Simple Happy Life
2000 EC credits – Blog Fusion
2000 EC credits – Life's Journey
2000 EC credits – My Crafts Stores Online
2000 EC credits – Blog de Manila
2000 EC credits – Mara's Personal Bubble
2000 EC credits – Mommy's Little Corner
2000 EC credits – A Woman Remembers
2000 EC credits – My Life's Adventure
1250 EC credits – The One Minute Guide
1000 EC credits – Meow Diaries
1000 EC credits – Take a Coffee Break
6-month 125×125 ad – Gossips of a Princess
1-month 125×125 ad – Azumi ★
1-month 125×125 ad – Life Expressions
1-month 125×125 ad – A Momma's Journal
1-month 125×125 ad – Walking Newspaper
1-month 125×125 ad – Pinoy Medical Doctor
1-month 125×125 ad – World Travel and Vacation
1-month 125×125 ad – Pinay Mom
1-month 125×125 ad – Travelin' With Marie
1-month 125×125 ad – My Journey to Life
1-month 125×125 ad – isherrygo
1-month 125×125 ad – My Mom's Best
1-month 125×125 ad – iLUVcontest
1-month 125×125 ad – Sherry Rambling
1-month 125×125 ad – Bloguardian Hellsite: OVERCASHED
2nd Prize:
$5 Paypal funds – Cotton Candy Buzz
5000 EC credits – Nessa's Mumblings
3000 EC credits – The Fountain of Happiness
2000 EC credits – Momgen Craft Corner
2000 EC credits – Kaya Mo, Pinoy!
2000 EC credits – The Mommy Journey
2000 EC credits – A Simple Life
2000 EC credits – Random WAHM Thoughts
2000 EC credits – Bloguardian Hellsite: OVERCASHED
2000 EC credits – Milestones
1250 EC credits – Cornyman's Money-Blog
1000 EC credits – Mara's Appetite
1000 EC credits – This is My Blog
1000 EC credits – Wishing on a Falling Star
1-month 125×125 ad – Home Buddies
1-month 125×125 ad – Couple's Love Book
1-month 125×125 ad – Garden of Moments
1-month 125×125 ad – Latest Buzzzz
1-month 125×125 ad – Walking Newspaper
1-month 125×125 ad – Leilanie's 101 in 1001 Challenge
1-month 125×125 ad – Blog de Manila
1-month 125×125 ad – Fab Momma
1-month 125×125 ad – Yashiro
1-month 125×125 ad – Happy Thoughts Happy Tot
1-month 125×125 ad – Mine all Mine
1-month 125×125 ad – Lurvevertyhing
1-month 125×125 ad – Shopping
1-month 125×125 ad – Hotels For All
1-month 125×125 ad – Another Contest
3rd Prize:
$3 Paypal funds – Mara's Appetite
5000 EC credits – Yashiro
3000 EC credits – The Wonder Mom
2000 EC credits – Moms…Check Nyo
2000 EC credits – The Joy of Life Forever
2000 EC credits – Rewards Station
2000 EC credits – Worth's Road
1500 EC credits – Pinay Mom
1250 EC credits – Cornyman's Blogreviews
1250 EC credits – All About Babies and Kids
1000 EC credits – Philippine USANA
1000 EC credits – Mariuca's Perfume Gallery
1000 EC credits – Yummy as Can Be
1000 EC credits – Life's Sweets and Spices
500 EC credits – Elai's Haven
1-month 125×125 ad – A Shopaholic Diary
1-month 125×125 ad – Pinay in States
1-month 125×125 ad – Pinoy Medical Doctor
1-month 125×125 ad – The Latest Buzzzz
1-month 125×125 ad – Travelin' With Marie
1-month 125×125 ad – Kaya Mo, Pinoy!
1-month 125×125 ad – Philippine USANA
1-month 125×125 ad – Handy Reviews
1-month 125×125 ad – Online Scoop
1-month 125×125 ad – ibloagholic
1-month 125×125 ad – nameSherry
1-month 125×125 ad – heartrandom
1-month 125×125 ad – Sherry Contest
1-month 125×125 ad – A Woman Remembers
Special Prizes:
10 various postcards from United States – Travelin' With Marie
1 pair of earrings (Worldwide shipping) – Momgen's Corner
4 sets of mixed handmade cards – DarlingRose Paper Goods
$10 gift certificate to Etsy shop- DaisyBookworm