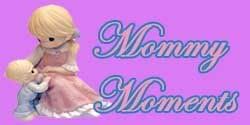 Another Friday is here and it is time for another Mommy Moments post!


My little ballerina!
My daughter performed her first ever ballet choreography last Sunday at Children's Church. She danced to the tune of Hark The Herald Angels Sing. I was really proud of her achievement! The steps are simple but the fact that she was able to put it all together in one song was really awesome! She taught the steps to her cousin and they performed together.
My daughter is the one in pink tutu. The Pink Tutu was made by Princess Tutu Collection!