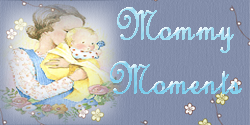 Mommy Moments is a weekly meme and you can join us by sharing any "mommy moment" that happened recently in your life. Create a post and add this badge to your post ( or choosing any other design from here). Then just enter your name and the URL address of your post below on the Mr. Linky, so we can all visit one another and see what you have shared with us this week!
Do you have a bedtime routine with your kids? Well, ever since my kids were still babies, we always followed a bedtime routine. After dinner, we take a bath, play around the room or color together for an hour or two, then we read a book together. When they were babies, I always read Bible stories to them and bedtime stories. Now that they are older, the kids choose a book from their bookshelf. I always look forward to these moments together. After reading, we close the lights and lie down, then we talk about what we read or how the day went. We end with a prayer together.

My daughter with a book we read before bedtime.
These are moments that I will forever treasure in my heart!
Share your recent mommy moments with us!