As part of the Schoolhouse Review Crew, we were asked to review the  French Essentials program. We were given a one-year Full Access Online Program.

My 9 year old, 4th grade daughter and I were very excited as we are both facinated with foreign languages. I can remember wanting to learn French back in college but wasn't able to pursue it. My daughter who is taking up ballet lessons wants to learn more French as well.

French Essentials is a downloadable French curriculum with online exercises, lesson tests and cultural lessons. This product was designed by Irene Shone and Greg Shone. They are both french teachers who started to tutor friends in their homeschooling community. Later they developed DVD French Curriculum for home use and in August 2010, they decided to make it more affordable and accessible by moving the curriculum to a downloadable format.
French Essentials focuses on the 4 areas of language acquisition skills which include reading, writing, listening comprehension and speaking. The language is taught using a step-by-step method with video and audio instructions. Students can listen and repeat the audio and visual instruction on the actual lesson page. The video lessons have 3 steps process which focuses on students watching, listening, repeating and speaking.  The lessons are reinforced with fun and challenging exercises from the printable PDF workbook. This helps the student practice their writing and reading skils. The online exercises reinforces the comprehension of the student by understanding grammar and sentence structure. The student area offers different activities as well:
Online flash cards
Listening comprehension & spelling
2 challenging games (Scatter & Space race)
A Test section that gives parents 4 different evaluation options.
The student area also includes a section about Francophone culture. It gives a background about the richness of the language and a brief history lesson.
The program currently offers 5 modules. Modules 6-10 will be coming soon. Each module has a different level of difficulty.
| | |
| --- | --- |
| Pre-highschool – Grades 4/5 – 7/8 | Modules 1 – 5       |
| Middle school (junior high) – Grades – 8-9 | Modules 5 & 6 |
| High school   Grades 10-12 | Modules 7-10 |
If your student already knows how to speak French, it would be good to take the Online Placement test to know which module your student should start in. If you don't have any prior knowledge of French, Module 1 would be a good place to start in. If you want to find out what is included in each module, you can check out the full curriculum outline of each module. You can also view sample lessons.
To use French Essentials, you would need a reliable internet connection to download the files and access the online excercises and tests area. You would also need to install  the following free software products on your computer: Adobe Reader, Adobe Flash player and Quick Time.
If you want to try out French Essentials first and see if it will work for your family, you can purchase a single module only.  Single module costs $69.95. You have 90 days to download the lessons and workbook exercises. But if you want to buy full access, it costs $149.95 only and you have one year access to all lessons and workbook exercises.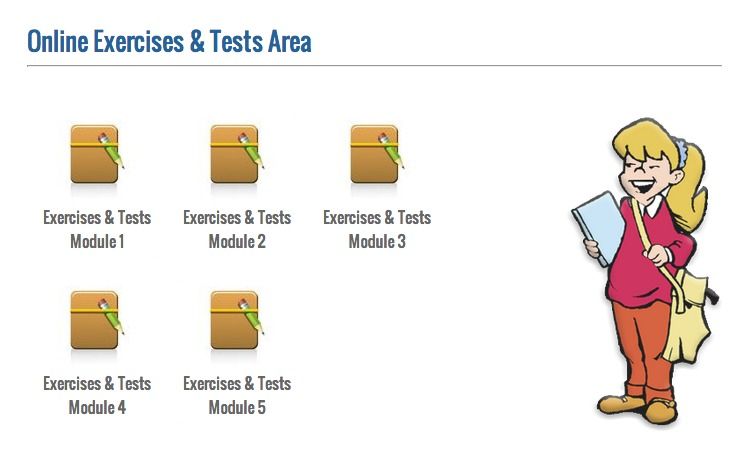 We have no knowledge of French so we started from Module 1. Upon logging in, I downloaded the different lessons from the module. This module includes 20 lessons which is divided into 5 units. We also installed the needed software applications so that we can listen to the audio files and view the video files.
My daughter started with lesson 1 and immediately, she was introduced to the French Alphabet. She listened to the correct pronounciation. She noticed right away the similarities and differences of the French Alphabet to the English Alphabet. The lesson was presented in a clear and straight forward manner. The visual drawings made the curriculum less intimidating as well.  She studied the lesson 1 in less than 15 minutes. So she immediately went to the 2nd lesson. I could see that she was very much interested and was able to comprehend the first 2 lessons in just one sitting. As the lesson progressed, she just did 1 lesson a day. She reviews her past lesson, then studies her current lesson then she also has to work on the online activities as well.  Overall, it took her about 30 minutes a day to work on her French lessons.  She studies French Essentials 3-4 times a week.
I liked French Essentials because each lesson starts with an objective, some grammar & linguistic explanation, audio and visual teaching, several exercises and a printable worksheet. It is a complete curriculum and isn't complicated for beginners like us. I also like the way we can review the previous lessons as needed. Knowing what to expect through its curriculum outline and the checklist for parents are a big help to keep track what our children has been learning too.  If  you are looking for French curriculum, I highly recommend this product. My daughter has been learning French on her own and has been teaching me all that she has learned!  French Essentials is a good homeschool tool and is a good fit for our family.
Click to read more reviews from the Schoolhouse Review Crew.