My son's favorite subject is Math, so when we had the opportunity to review IXL.com , we tried their Online Math Membership program for ages PreK to 12.
IXL.com provides state standardized and comprehensive online practices for Math and Language Arts.  As of the moment, IXL.com offers 2nd grade skills to 4th grade skills only for Language Arts. Though they plan to add more in the immediate future.
We all know that the best way to master Math is to keep practicing. Sometimes, solving problems and drills repetitively for students gets boring and this is where IXL.com can be a big help to students and parents alike. The practices are presented in fun and colorful pictures. Their Online Math program offers Pre-K to Algebra and Geometry skill practices. Pre-Calculus will soon be offered too.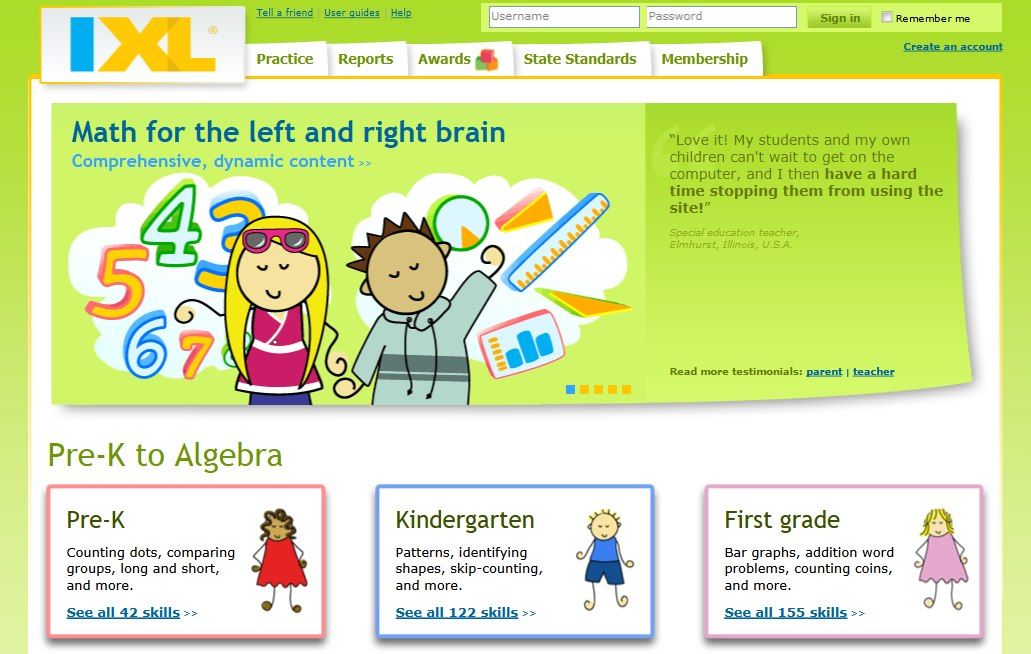 Each grade level's skills are all listed. This allows the student and the teacher to see all the skills that the student can master in every practice. As the student completes the interactive practice, they are learning the skills systematically and they earn awards each time. The teacher also receives a detailed report of what the student has learned and accomplished over the whole week. Every milestone, the student can print their awards and certificates as well.
For our review, we were given a one year subscription to IXL.com. We only tried their Online Math Membership program as my son is only in first grade. Upon login, I created an account  for him. He immediately tried the different skills listed under first grade.
Each skill took differnt amounts of time to complete. Some skills which are easy like subtracting 0 or counting review from 0 to 10 took less than 15 minutes while harder topics like skip countring by twos, fives and tens took longer.  While my son was practicing, he is able to see his score on the screen. He gets immediate feedack. Each correct answer gives him the harder question next, but whenever he gets the wrong answer, the program will not continue but show him the correct anwer first. Then his current score will be lower so he needs to answer more questions to make up for the mistakes.
When he finishes the skill and gets a score of 100, he gets a medal besides the skill he finished. It also gives him a virtal award. When he goes to the award tab, he is able to see how many medals he has earned, how many questions he has answered, how many minutes he has practiced, how many skills he has learned and he gets to open a piece of the puzzle.
My son was interested to play with the different drills but I couldn't get him to do more than 2 drills a day.We used the program about 3 to 4 times a week.  Though he can choose which topic he wanted to practice, the repetitiveness of the drill especially when he gets a mistake probably makes him want to stop using the program already. The drills are pretty simple and straight forward to use. Though I wouldn't use it as our primary Math curriculum, it is useful for practice drills.
Aside from using the online version through our computer, we also used the just released free iPad Math app for pre-K through 6th grade math.  This allows my son to use the iPad and do his drills. Though you would need to be connected to the internet to use this app.
I would recommend this if your children needs serious drills to practice Math proficiency. There are over 2,000 skills which your child can be proficient in. For the parents, the reports are already very detailed for easy tracking.
For only $9.95/month or $79/year, you can already have access to the whole IXL.com program, including Math and Language Arts.
Find out what other members of the review crew think of IXL.com!